Whilst many of you will have been sad to hear Michael + Erick have sold, they're happily motoring on and we wish them every success in their new adventures! As experienced new owners ourselves, we know filling the shoes of such experienced and well thought of members of the Sandwich community will indeed be a task in itself. That said, our enthusiasm for this established community gem is real and we are eager to serve the public with equal willingness and passion.
Please come, say hello and continue to enjoy the brown Jug.
With gratitude…the new management.
---
December 2nd – 4th Hours:
10AM – 4PM
Thursday – Friday
10AM – 8PM
Saturday
CLOSED SUNDAY + MONDAY
THE PIZZA OVEN
REOPENS SATURDAY DEC 4th — 2-8PM!
For 'Curbside Pickup' of phone orders
for sandwiches, pizza, salad, beer and wine!
Sandwiches + Salad orders start at 10AM
CURBSIDE :: Call ahead with your order ::
508 888 4669
And we wish everyone a wonderful, safe and happy thanksgiving.
---
Since 2003, the brown Jug has been offering the Cape Cod region some of the finest specialty foods, wines and casual dining experiences available.
Call us!
Hear Mix96's 'Dan & Stephanie' brown jug Radio spots!
Listen to the brown Jug's latest MIX96 radio spots below — let us know if you hear them live on air!
Click on the play button to hear Voice Artist Lisa say hi to Michael + Erick!
Pizza now available year-round!
HAPPY HOLIDAYS!
IT's ALMOST 2020!
EVERYONE AT THE BROWN JUG IS HERE TO HELP!
CREATE YOUR OWN PIE – SMALL $14, LARGE $18 – PLUS TOPPINGS

TOPPINGS – VEGGIE/FRUIT @ $1.50 EACH, MEATS @ $2.50 EACH

PIZZA ALSO AVAILABLE BY THE SLICE!

GLUTEN FREE CRUST AVAILABLE – $3 ADDT'L

(PRICES AND MENU SUBJECT TO CHANGE WITHOUT NOTICE)
VINES
BAR DRINK MENU
WINES BY THE GLASS, COCKTAILS, CHAMPAGNE, PROSECCO, BEERS AND PITCHERS OF SANGRIA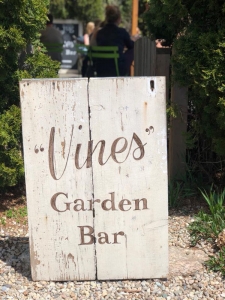 Pitcher of red or white Sangria with fresh fruit – 25

Apperol spritz, prosecco, Apperol orange – 12

Negroni – Hendriks, Vermouth Ross & Campari – 13

Bucket o' beer – 4 Cape Cod beers – 20

Cape Codder – Tito's Vodka, cranberry juice – 9

Sea Breeze – Tito's Vodka, fresh grapefruit juice, cranberry – 11